Single Cell Grant awarded by Faculty of Medicine
A unique collaboration between Dr. Asaf Madi & Dr. Nidal Muhanna
Single Cell Grant awarded by the Faculty of Medicine succeeded to initiate a unique collaboration between Dr. Nidal Muhanna (TASMC), who specializes in head and neck squamous cell carcinoma (HNSCC) and sees patients on a daily basis and has extensive knowledge on this disease, and Dr. Asaf Madi (Dept of Pathology), a systems immunologist with background in cancer immunology, immunotherapy and informatics.
The project they have started working on is designed primarily to extend our basic biological understanding of T-cell differentiation dynamics and the functional contribution of different subsets/states in murine models of head and neck squamous cell carcinoma.
Their preliminary results set the stage for largescale single cell RNA-seq experiments designed to identify the critical interactions between immune cells in the tumor microenvironment of HNSCC patients.
The results may facilitate the identification of multiple novel therapeutics by focusing on early events in T-cell differentiation. Such therapeutics will be designed to increase the effect of the immune system to control tumors, by shifting the balance of CD8 T cells away from exhaustion/non-responsiveness and towards effector and memory formation.
Dr. Asaf Madi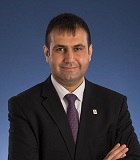 Dr. Nidal Muhanna 
www.tasmc.org.il/sites/en/Personnel/pages/nidal-muhanna.aspx